Corrupad Protective Packaging is produced using a patented manufacturing process that produces lightweight, totally recyclable, custom designed cushioning elements. It is now being used by manufacturers of computers, electronic instruments, automotive parts, plumbing fixtures, medical and scientific equipment, office equipment, furniture, glass, appliances and a variety of other damage-sensitive products. The CORRUPAD process eliminates the need for investment in expensive molds and/or dies. Corrupad Protective packaging utilizes only recycled single-faced corrugated material made from 100% post consumer waste.
Because it requires less cushioning material than expanded polystyrene and blown-in foams, the CORRUPAD system uses custom designed angles, channels, flat pads, tri-corners and end caps to produce a smaller outer package. Exhibiting superior strength, resilience and shock absorbency, CORRUPAD results in smaller carton sizes producing lower material, printing, storage and freight costs for the manufacturer.
Custom Fitted Components
CORRUPAD will redesign present manufacturers' packages at no cost. In doing so, the Corrupad Design Center creates prototypes of a replacement package integrated with CORRUPAD corrugated cushioning. Testing of the final package is available in the Corrupad Laboratory and it is usually sent to the manufacturer for field-testing. Once testing is complete and the manufacturer is fully satisfied with the results, production begins. CORRUPAD then manufactures and delivers these components through their network of packaging distributors, often on a just-in-time basis. Through their global manufacturing partners, CORRUPAD components can be fabricated and delivered internationally when specified by multi-national manufacturing prices.
The Corrupad Design Center and Laboratory focuses on three critical areas: capitalizing on the opportunity for reducing the size of an original package, determining the strength, resilience and shock absorbency of the corrugated cushioning needed by each product's size and shape; and then testing to assure the two work together to reduce handling and shipping damage and to ensure proper vertical load bearing strength. By adopting this type of custom packaging, the manufacturer suffers fewer returns; lowers warranty expense and creates greater satisfaction from their customers
Contact Us for more information and ordering of Corrupad products.
&nbsp&nbsp&nbsp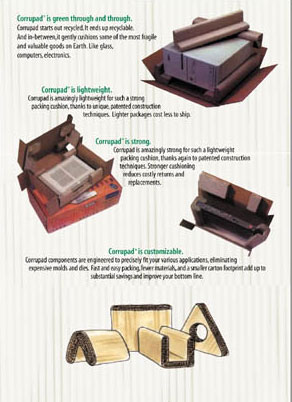 This packaging is made from recycled materials